Paranoid
case study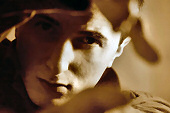 One client in an outpatient mental health center was a non-practicing attorney that had not been able to pass the bar exam. He lived with his wife and child in severe financial straits but none of his economic concerns deterred him from spending nearly all of his time in self-generated and self-maintained litigation with various companies or individuals with whom he had contact.
He was not looking for employment when he came to the mental health center on a referral from child protective services (for his difficulty in managing his anger with both his wife and his daughter). He considered his various lawsuits to be his 'work'. He was not particularly intimidated by CPS involvement with his family; he was hoping to be able to sue that agency as well.
Analysis
This client's behaviour is apparently very tense, anxious, guarded, devious, sensitive, and ready to counterattack, certainly fitting the bill for PPD. He displays a/an:
The unfounded suspicion that people want to deceive, exploit or harm the patient.
An angry and aggressive response in reply to imagined attacks by others. The counterattack for a perceived insult is often rapid.