About
this project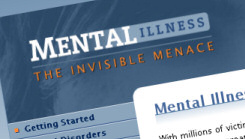 It all started in early September 2005 when Samuel, the team leader, started searching for team members to create an educational website that would be interesting as well as easy to understand. There were a lot of websites that provided information about different types of disorders, stress, and psychological studies, but what Samuel found was most of the websites were descriptive and none of them provided solutions for disorders caused or told society what were their impacts. It was necessary to display case studies, audio and video interviews of such disorders caused. Keeping these things in mind he started to build a team.
Possibly it is the first time in the history of ThinkQuest that the team members come from 4 different continents and 7 countries, which truly represents an international team.
When Samuel contacted Jorrit, who had already won the ThinkQuest October 2003 competition, he presented his idea to him. Jorrit was very impressed and agreed to help Samuel find team members.
As the topic and audience were global and needed multiple points of view, it was necessary that the team members come from various countries. Soon Samuel came across Pak Chuen from Singapore, Shellie from Jamaica and Ola from Egypt. Shilpa and Gursimran from India joined the team later. Jorrit contacted Mrs. Kohn (coach of the winning SARS team in October 2003) and told her about his new team. She was very interested in this topic and joined the team as primary coach.
A team forum was been setup by the assistant coach Jorrit, which was the get-together place for all team members. Online conferences were also organized when the team needed to take vital decisions regarding the issues. Instant messengers were of great help to keep in constant touch.
It was a grand experience working on this subject which affects millions of lifes worldwide. This project made us learn that it is through collaboration and understanding that we can reach success and create useful resources for generations to come.
When the team was fixed, everyone did their own research, went to different local libraries, consulted websites, had a talk with experts from this field and came up with lots of ideas from various sources.
As a result the team laid a sitemap which would greatly help in the research of the topic. When this was in process many of the team members had multiple views on several subjects like mental disorders and tragedies. The solution was to consult the experts and our primary coach helped us bridge this gap. The content was just pouring in, when there were collisions between ideas, the team always found a middle way. Also it was necessary to get permissions for all of the work, which took more time. Everyone was busy writing the content for the website; they took care that the content came from various resources like books, magazines, internet sites and experts. After 5 long months the content was ready, everything was send to Mrs. Kohn to check for grammatical or mechanical errors, if found they were corrected by her.
Next was to represent this valuable information through a website which would be creative and help users to get solutions for their problems. Care was taken that the content would be extremely easy to understand for all age groups. The team used rich media resources like audio and video interviews for presenting the subject. Samuel, Pak Chuen and Shilpa worked immensely on organization of data, pictures, structure of the layout and navigation for readability. They were assisted by Jorrit for doing these tasks. Gursimran made a Flash introduction of the website which provided a brief idea of the subject and displays stories of millions of people affected due to mental illness. The website was well completed before the deadline and was constantly updated if any new ideas were found.
About the team
It was a grand experience working on this subject which affects millions of lifes worldwide. This project made us learn that it is through collaboration and understanding that we can reach success and create useful resources for generations to come.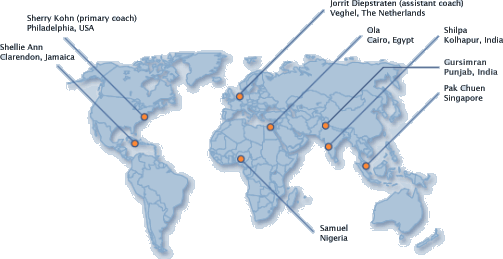 This website is the product of months of hard work and devotion as a team. We have learned what a role of a team member is and we have become close friends in the process. We have tried to provide each and every solution to cope with mental illness. Possibly it is the first time in the history of ThinkQuest that the team members come from 4 different continents and 7 countries, which truly represents an international team. Diversity helped us to improve the educational value and global significance of the website.
Our team is called the White Laser Family. The idea of this name was to highlight how we have complimented eachother's weaknesses and became a stronger force, like the laser beam, as binded with love that exists in a family.
Thanks to ThinkQuest and the Oracle Education Foundation for organizing such a fabulous competition; everything was worth it!
Team leader: Samuel

Won WSIS World Summit Youth Award
Creativity Awards by Federal Government Of Nigeria and Nigerian High commission in Jamaica.
Resource Site Awards by Miller Communications company in Canada and ThinkQuest Africa Internet Challenge by Schoolnet Africa and Microsoft Unlimited Potential (Egypt).

I am so glad to be part of this team and being the previleged leader. Before now everything on this site was a fantasy to me; all I had were ideas, though I knew they are very important and great ideas. But getting the right people to help me was no easy task. I started this team close to six months ago, and all I wanted was to have different views to my idea. I had projected a team from two to three countries to join me, however when the team started growing, it was quite explosive. We had different genders, ages, countries, schools, cities and school levels. I knew we got the right people from the right place.
It was more than a thing of joy to me, because I just don't think it can get better than this! I was encouraged by the efforts put in by everyone, espescially jobs done by Ola and Pak Chuen (who are both 14 years old, making them the youngest of the team). This is because I had only seen the computer a few times when I was fourteen, and operating it or using it for research only remained a fantasy then.
My job was content based, though I handled technical aspects of the website as well, such as CSS styling, Flash games, lay-out and JavaScripts we used. The part of the collaboration I enjoyed most is comsidering the fact that this team consists of everything from multiple backgrounds and we have been able to blend our differences and weakneses to enhance our strength. The whole thing was very impressive to me, and I have no regret being the first born of the White Laser Family.
Ola


It's a great honour joining ThinkQuest 2006, especially with such a highly co-operative team. Becoming a member of White Laser Family is my first experience with ThinkQuest. I was so impressed when Samuel told me about the idea of our project. My mission was the content research and it was wonderful to do it as I got much more information about psychology and some shocking facts, indeed. We all passed long tiring hours constructing this site, but it's the team's insisting spirit which made the work easier. I hope all of you like our project.
Shilpa

| | |
| --- | --- |
| Location: | Kolhapur, India |
| Time zone: | GMT +5:30 |
| Age: | 16 |
| School: | New Model English School |

When I was invited to join the team, I was pretty excited. I had been a spectator to early ThinkQuest competitions. When the team came up with this topic, I was personally against it cause I thought that this wasn't a useful topic and it won't make any difference to the larger part of society. When Samuel, Pak Chuen and Ola sent me the fact sheet about Mental Illness I was shocked to read them, what I realized was everyone faces this problem but none of us tries to recognize them.
I worked as a content writer and helped Samuel in technical tasks like editing the content and providing the images needed for the website. It was tough time getting the permissions for all of the content and images, but mostly I succeeded in this task. Working with an international team was new. Firstly I faced many problems getting used to the time zone of every team member, but later got used to it. I learnt lots of things during this project. Collaboration was something that helped our team a lot, it made the content better than ever.
We enjoyed working on this project; it was a great experience working with team members whom I hadn't seen before. I'm looking forward to meet my team members. Thanks a lot to our coach Mrs. Kohn for her kind support and our assistant coach Jorrit Diepstraten for his technical advice. The project was only possible because of good team work and perfect co-ordination.
Pak Chuen


I am the youngest member of the team and worked as a programmer for this project. Everyone treated me well and has always given me precious feedbacks on my work. I have tried my best to utilize all my programming skills to enhance this website so as to facilitate the visitors.
Working with an international team isn't something new to me; I had already worked with Jorrit previously. His advice was of great help. Programming is never an easy task; I faced numerous problems and it was always challenging for me to debug them. Nonetheless, with the wonderful stress management tips provided on our site, I was able to work stress-free. At the end of the day, seeing our website being put together page by page gave me a sense of fulfilment that nothing could replace.
Even though I am hundreds of miles away from my team members, I have never felt the physical gap between us. With a common vision and goal which we all strived towards, we managed to overcome all our problems. ThinkQuest is really wonderful as it brought all of us from different countries together and gave us an opportunity to work and socialise with eachother.
Shellie Ann

Was felicitated for winning a national essay writing competition and was invited to Jamaica to attend an international conference.

I was responsible for the content writing and had spent more than 3-4 months researching on this topic. The subject first seemed to be very simple but as days passed it became hard to work on complex problems like seasonal affective disorder, personality disorders, etc. Every team member contributed to the content. We worked extensively on different activities to present the content in compelling way.
I really loved working on this project because it taught me to be an obedient team member. It has developed my personality and has bought up the professionalism in me. I am thankful to the project for the hard work and creativity it churned into me.
Diversity is a way of life for Jamaicans. We are a country that houses a mix of people from all different ethnic backgrounds and cultures, hence our motto: "Out of many, one people". Against this background, it was not very hard for me to get along, work and share experiences and ideas with each member of the White Laser Family although it was a hard task creating, gathering and organising content for our project.
It is great that you have showed interest in a site which deals with an issue that affects us all, yet is not seen in the proper light by most people. I trust that as you turn the pages of this site you will not only acquire knowledge and enjoy games but that you will seriously ponder the issue at hand, consider the opinions we have presented, form a viewpoint of your own and act upon it.
Be unyielding in your quest for knowledge and encourage your friends to do the same. In the words of Malcolm X "Education is the passport for the future, for tomorrow depends on the people who prepare for it today".
Gursimran

| | |
| --- | --- |
| Location: | Jalandhar, Punjab, India |
| Time zone: | GMT +5:30 |
| Age: | 19 |
| School: | ICFAI University |
World's youngest Microsoft Certified Systems Engineer female professional.
Works as a freelancer for many international companies.

Working with a team with a wide range of experience and talent was an educational and an inspiring experience. Although it was my first experience, the White Laser Family indeed felt no less than a family to me. My mission was to create the flash introduction that best capsulated the whole idea in a visual treat. The support of the team and constant guidance proved to be the driving force for the successful completion of our project. With seven years of experience in web design, flash animation and graphic art, I specialize in high-impact web authoring. My motive is to provide the best the eye can see and the most imaginative the mind can perceive.
Primary coach: Sherry Kohn

Was primary coach for SARS: An Open Scar which won first place in ThinkQuest October 2003 contest.

As a teacher I have always felt the hand of the future guiding me. ThinkQuest took this feeling to another level. I have been blessed to act as a coach to two ThinkQuest teams. They both allow me to believe that despite the problems the world is facing today, there is great hope for the future. The collaboration of all of these farflung young people to create such wonderful sites, gives one great hope.
Assistant coach: Jorrit Diepstraten


It was a great time to work with this very enthusiastic team. Although we are divided over different locations around the world, we faced and overcame the limitations that are attached to an international team. My work on this project was related to the technical aspect of the website. But I also assisted the team members with the creation of the lay-out. Congratulations to all team members on creating this great website! I wish you good luck with your future activities.