About
stress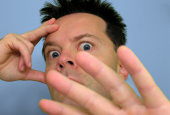 Researchers define stress as a physiological and emotional response to threat. Medically stress is a wide range of strong external stimuli, both physiological and psychological, which can cause a physiological response called the general adaptation syndrome. Though to various people stress may represent different phenomenon, but generally it is the normal, adaptive reaction to threat.
Stress is phenomenon experienced by almost everybody, in various times, as simple as it may appear, stress constitute a potential menace to lives of everyone. Stress might build up from daily hustle and bustle experienced in our daily routine either at school, in office and from personal relationships. These hustles might appear as no issue, but overtime it might build up to cause significant stress. On the other hand stress might be very sharp and quick, in such extremely case, such as losing a loved ones or losing valuable properties in a tragic event and so much more among an array of incidents. Since we know that stress is inevitable at one point or the other, managing stress might be significantly important at every point in time.
When we are under stress our body undergo various anatomical processes, which involves production of hormones and triggering of various actions. Apart from causing many mental disorder stress is also considered as the number one cause of heart attack, due to the intense pressure which various capillaries and veins operate with when under stress.
Content outline
Activities