Coping
with mental illness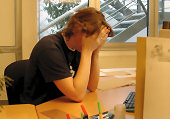 Coping with stress means a series of thoughts, actions and behaviors developed to nullify effects of stress.
This actions usually varies from one person to another depending on the level of counsel received by the stress patient, the stressor and guts of the person, amongst other factors.
Content outline
Citing
Relieving depression
Microsoft Encarta Reference Library 2005

© 1993-2004 Microsoft Corporation. All rights reserved.

Jakarta Declaration for Health Promotion

WHO, 1997. All rights reserved to World Health Organisation.