Psychological effects
September 11
On September 11, terrorists did more than destroy buildings; they scarred the American psyche and caused the death of 3000 people. The attacks had negative economic, social and psychological effects on the American society. Some psychological disorders like PTSD (post traumatic stress disorder), depression, anxiety and panic attacks increased. Also, smoking, alcohol consumption and marijuana increased in an obvious way after the attacks.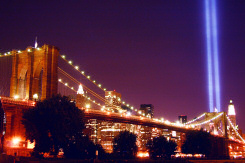 Women were more likely to develop PTSD as well as increment in alcohol use. People with PTSD were more likely than those without PTSD to use alcohol.
In the weeks immediately after the attacks, a survey of 668 Americans by the Institute of Social Research in Ann Arbor, Michigan, reported that 49 percent of participants felt their sense of safety and security had been shaken. And some 62 percent of respondents said they had difficulty sleeping.
U.S. citizens had to cope with increased difficulties and disruptions in air travel, postal deliveries, airport and building evacuations, and the like. Clearly, the psychological toll of this war is likely to considerable. New York City seemed to become a kinder gentler place. New Yorkers, known for their toughness and almost rudeness to strangers, were observed to be more considerate of each other. Some of foreign students have the anxiety of being held as responsible for the attacks. (Purnik, 2001).
Fast facts
These examples show the panic caused among people after the September 11 attacks.
A seven-year-old girl being seen for psychotherapy in NYC reports that there was a fire drill in her school and that she was scared, as were many of her classmates. This is not the reason that she began therapy.
A parent brings a child in to see a psychologist in California because he gets extremely anxious and cannot sleep when he hears planes overhead, thinking that this is an attack.
A young lawyer who was working near the site of the disaster and who for five months tells his therapist that he is fine, starts to have difficulty sleeping and nightmares when he falls asleep. He has started a new relationship with a woman who has asked him to tell her his story of September 11. He is meeting a lot of new people through her and has to retell his story many times.
A man on a flight to San Jose, California, opens an envelope and a powdery substance spills out. A fellow passenger alerts the flight attendant, reporting that he had dispersed the powder into the ventilation system. Once the plane lands, it is held on the tarmac for three hours and the FBI is called to investigate. The 'powdery substance' was confetti enclosed in a greeting card.
Figures that speak
422,000 Estimated minimum number of New Yorkers suffering
from PTSD as a result of 9/11.
Number of orphans created by the 9/11 attacks 1,300
91 Number of days after 9/11 that Pat Flounders, widowed in the attacks, shot
herself, the first related suicide
20Percentage of those living within a one mile radius from the Twin Towers
suffering from Post Traumatic Stress Disorder
Increase in PTSD among Manhattanites post-9/11 200 %
10,000stimated number of the city's public school students suffering
from PTSD as a result of 9/11
20Reported increase in church and synagogue attendance following 9/11
25Percentage of Manhattanites who increased their alcohol consumption following
9/11
10Percentage of Manhattanites who increased their cigarette consumption
following 9/11
Percentage of Manhattanites who increased their marijuana consumption following 9/11
3.2%
Content outline
Citing
OxfordJournals.org
PsychiatryOnline.org
PsychologyToday.com